The story so far
Grin and Tonic has been serving the State of Queensland in Australia for over forty years. At the helm of Queensland theatre, the company delivered the inaugural production of the Queensland Theatre Company in 1969, Peter Shaffer's The Royal Hunt of the Sun. With a strong Youth and Education arm, the Grin and Tonic Theatre Troupe is well respected for its high standard of work in the education system throughout Australia and Asia. Our company boasts such luminaries as Geoffrey Rush, David Gulpilil, Jack Thompson, Deb Mailman, Bille Brown, Roxanne Macdonald, Ian Stenlake, Veronica Neave, Eugene Gilfedder, Russell Dykstra, Jane Harders, Leo Wockner, Don Batchelor, Jennifer Flowers, Sean Mee, Caroline Kennison, James Stewart, John Batchelor, Andrew Buchannan, Hayden Spencer, Carita Farrer, Donald Hall, Elizabeth Navratil, Sir James Killen and Cicely Berry to name a few.
Grin and Tonic's Founding Director, Bryan Nason has received many prestigious awards for the Company's dedication to theatre including an Honourary Doctorate of Letters from the University of Queensland, a Queensland Centenary Medal, and a Member of the Order of Australia which is the highest award given by the Governor General of Australia for the Company's service to the performing arts in Queensland, through the development of professional theatre groups and regional touring. Since 2009 the company is guided by Kellie Lazarus and Jason Klarwein.
As well as producing high quality theatre and workshops to over 60,000 school students per year, our Mainstage production highlights include Right on the Night with Geoffrey Rush (1979), The Bacchoi (1971), Mother Courage and Her Children (1981), Othello at the Sydney Opera House (1987), Troilus and Cressida co-directed by Cicely Berry (1989), Gilgamesh (1990), The Tale of Monkey (2002) Franz Kafka's The Trial (2005), A Midsummer Night's Dream (2010 co-produced with Milton State School), Orbit (2012), Macbeth (a 2014 co-production with Queensland Theatre Company) directed by Michael Attenborough CBE, The 7 Stages of Grieving (2015-17 Brisbane, Sydney, Melbourne, Montreal, London)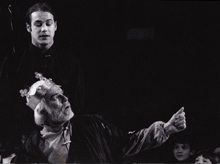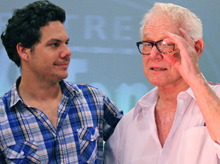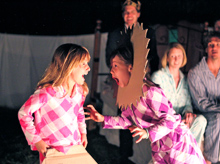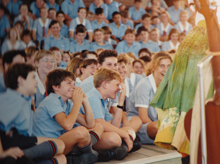 Kellie Lazarus
General Manager
Kellie has actively worked with the Queensland Theatre Company from 2001 in Michael Gow's production of Richard the Second and was a proud member of the Emerging Artists program in 2002. Theatre Performances for Queensland Theatre Company include The Cherry Orchard Show, Road to the She Devils Salon, The Orphanage Project and We Were Dancing. Kellie has also performed with Grin and Tonic Theatre Troupe on their 2002 touring shows and in Othello, Much Ado About Nothing, Hamlet, MacBeth, The Taming of the Shrew, A Midsummer Night's Dream, Henry the Sixth parts 1,2 and 3 and Troulius and Cressida. Fractal - Dracula and Boucicca. Zen Zen Zo – MacBeth As Told by the Weird Sisters and Unleashed. Kellie graduated from QUT with a BA of Arts Drama 1996. Kellie is a qualified secondary drama and dance teacher with over seven years experience with the department of education, Having worked with excellence students in Performing Arts Schools through to facilitating workshops for the Bell Shakespeare Company, her work includes industry-recognised experience with national theatre companies.
Kellie is a proud member of MEEA.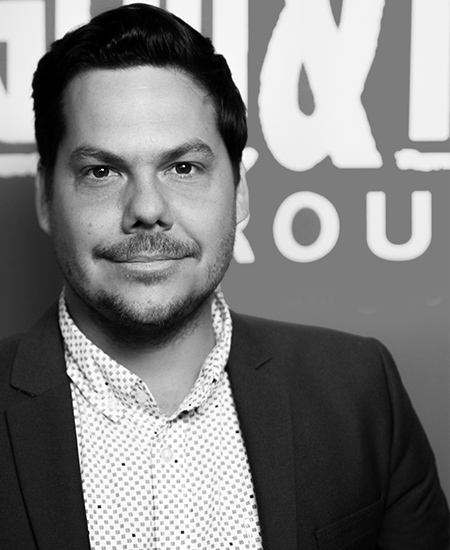 Jason Klarwein
Artistic Director
Jason Klarwein is a producer, director and actor who works nationally and internationally with Australia's leading theatre companies. Jason has been an associate member of Grin and Tonic for over fifteen years. 2017 marks his eight year as Artistic Director. Other companies Jason has worked for include the Bell Shakespeare Company, Sydney Theatre Company, Belvoir St Theatre, Melbourne's Malthouse, La Boite Theatre, Black Swan, Adelaide Festival Centre and The Queensland Theatre Company, which Jason has had a thirteen year association with. In 2007 Jason was one of five Australian artists invited by London's Almeida Theatre and the Sydney Theatre Company to participate in an International Shakespeare Laboratory led by Cicely Berry of the Royal Shakespeare Company and the Almeida Theatre's Artistic Director Michael Attenborough. In 2009 Jason toured the United States alongside Cate Blanchett in the Sydney Theatre Company's production of A Streetcar Named Desire, directed by Norwegian screen and stage legend Liv Ullmann. Jason starred as Macbeth in the highest grossing show in 21 years at the Queensland Theatre Company directed by Michael Attenborough CBE and Co-produced with The Grin and Tonic Theatre Troupe. In 2017 Jason was nominated for a Helpmann Award for Best Actor in a Play for Sam Strong's production of Michael Gow's Once In Royal David's City. Jason has directed many acclaimed theatre works including Orbit, Oedipus Doesn't Live Here Anymore, Much Ado About Nothing, St Mary's In Exile, The 7 Stages of Grieving (Brisbane, Sydney, Melbourne, Montreal, London), Hoods and My Name Is Jimi (Cairns, Brisbane, Thursday Island, Sydney).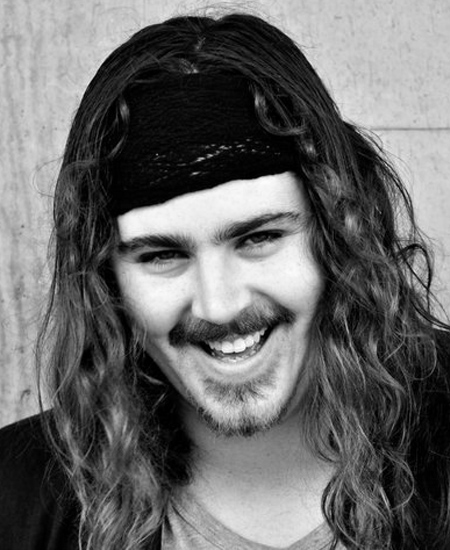 Travis Dowling
Associate Director
Travis is a theatre director and workshop artist based in Brisbane and is currently the Associate Director of The Grin and Tonic Theatre Troupe. His directing credits include, I am Romeo and Juliet (Grin and Tonic), Warning Small Parts (Grin and Tonic), The Last Five Years (ignations/QPAC), The Dream Project (Grin and Tonic), Lazarus Won't Get Out of Bed (Metro Arts), Furious Angels (Metro Arts), Oh The Humanity (Vena Cava), Sleep Rest Repose (La Boite Scratch) and as an assistant director for Thom Pain (QTC), The Miracle at Cookies Table (Bungabura Productions/QPAC) and The Lieutenant of Inishmore (AS Theatre). His workshop experience includes West Farmers Regional Acting Studio (QTC), Theatre Residency week (QTC), The Lifeline Drama Disability Program (QTC), Youth Ensemble (QTC), and various workshop programs with Grin and Tonic, Backbone Youth Arts, The Empire Theatre, and the University of Southern Queensland. Travis also sits on the Sector Program Reference Group (Arts Queensland) and The Backbone Bounce Committee (Backbone Youth Arts).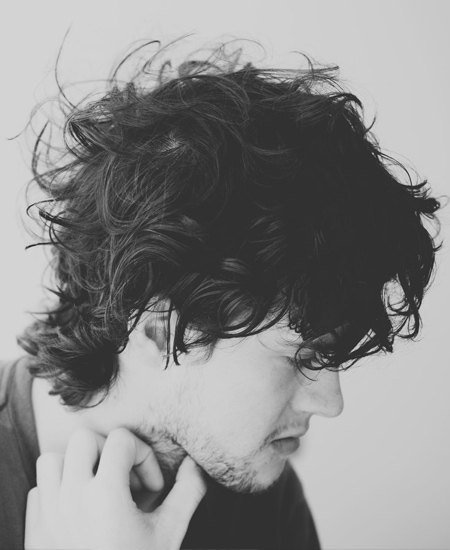 Justin grew up in Mackay, performing in amateur theatre productions from the age of 7. Continuing his interest in theatre through high school, Justin moved solely into technical production.
Justin later moved to Brisbane to pursue a career in the film and television industry, and graduated from Griffith Film School with a Bachelor of Film and Screen Media Production in 2008. Justin has since worked on national and international feature film and television series, TVC's and Documentaries, as well as toured with Cirque du Soliel's 'Dralion' production in 2008-2009. His visual and sonic design has been seen, heard, and awarded internationally.
Justin has worked with the Grin and Tonic Theatre Troupe since 2010, designing the technical setup, as well as the A/V content for over 30 shows.